About Us
What's New
8 July 2020 Hong Kong Island Flag Day Special Arrangement

In view of the latest development of the novel coronavirus epidemic and the extension of prohibition on group gathering promulgated by government, Blind Union will have a special arrangement on our Hong Kong Island Flag Day scheduled on 8 July in order to safeguard our volunteers and the general public.
Flag Station Arrangement
To protect the well-being of our volunteers, we will distribute epidemic prevention supplies like hand sanitizers and wet wipes to our volunteer together with the flag bags. Besides, we will remind our volunteers to keep an appropriate social distance with the public and also keep the most minimum contact with the donors when selling flags. The number of flag station is reduced from 8 to 5 as follows:
HK02 - LG01-03, Lower Ground Floor, The Westwood, 8 Belcher's Street, HK – HSBC (MTR HKU Exit C2)
HK03 – BL1, 1 Queens Road Central, Central, HK - HSBC
HK04 - Hay Wah Building, 71-85 Hennessy Road, Wan Chai, HK - HSBC
HK05 - Public pavement outside Cinema City JP, 22-36 Paterson Street, Causeway Bay, HK (MTR Causeway Bay Exit E)
HK06 – Winners House, 306-316, King's Road North Point, HK – HSBC (MTR Fortress Hill Exit B/ MTR North Point Exit B1)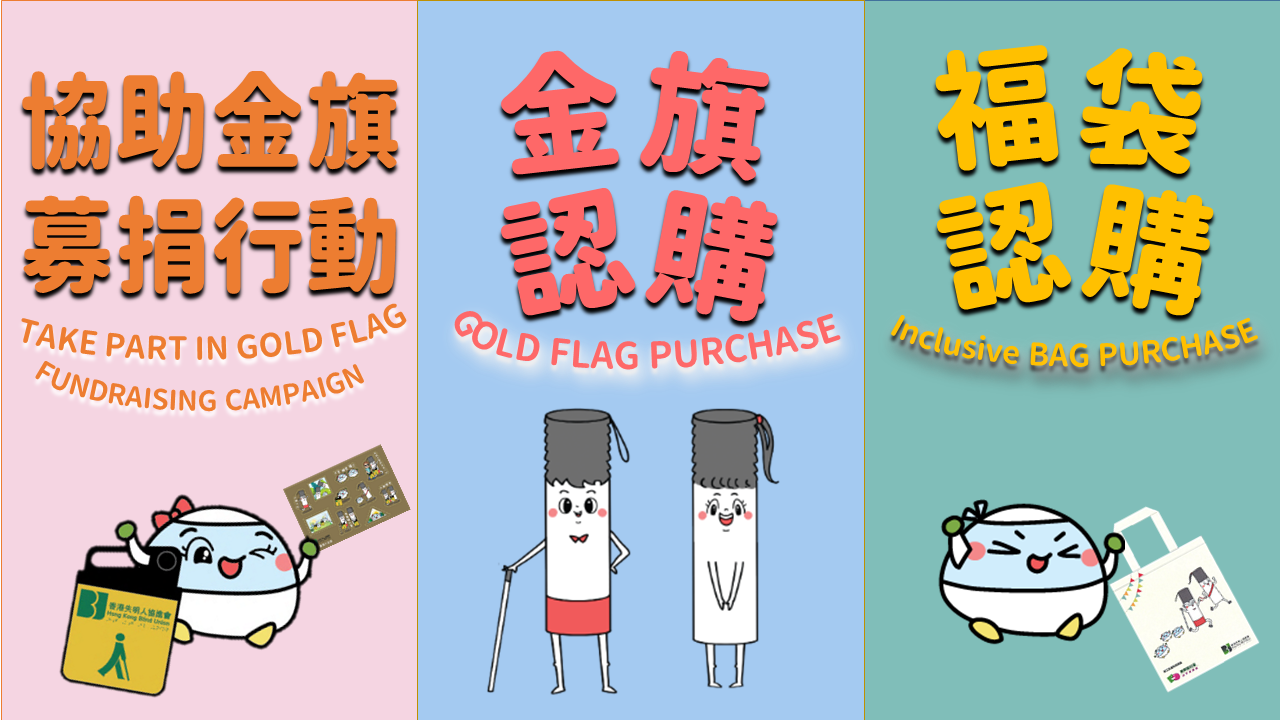 With limited volunteers and flag stations this year, we encourage people to support Blind Union by taking part in our gold flag fundraising campaign, donating gold flag or purchasing our inclusive bag. Donation raised will be used in supporting service for visually impaired persons and their families.
Take Part in Gold Flag Fundraising Campaign
Please support us by taking part in our Gold Flag Fundraising Campaign, and please do encourage your family and friends to join us, to raise fund to support service for visually impaired persons.
Individual: Fundraiser can complete the Gold Flag Fundraising Campaign Form after gathering donor's information and donation. A Certificate of Appreciation will be awarded to individuals who gather donation of HK$300 or above.
Corporate or Organization: Please download and complete the Reply Form for flag bag circulation or set up donation box within the office. A Certificate of Appreciation will be awarded to corporate or organization which gather donation of HK$3000 or above.
Gold Flag Donation
You can support us by subscribing for a full set of gold flag with a donation. Donations of HK$100 or above can receive a donation receipt for tax exemption and a Gold Flag set (consists of a postcard with ten flag stickers) by mail. You can complete the Google Form or download the Subscription Form and send it to info@hkbu.org.hk for our follow up.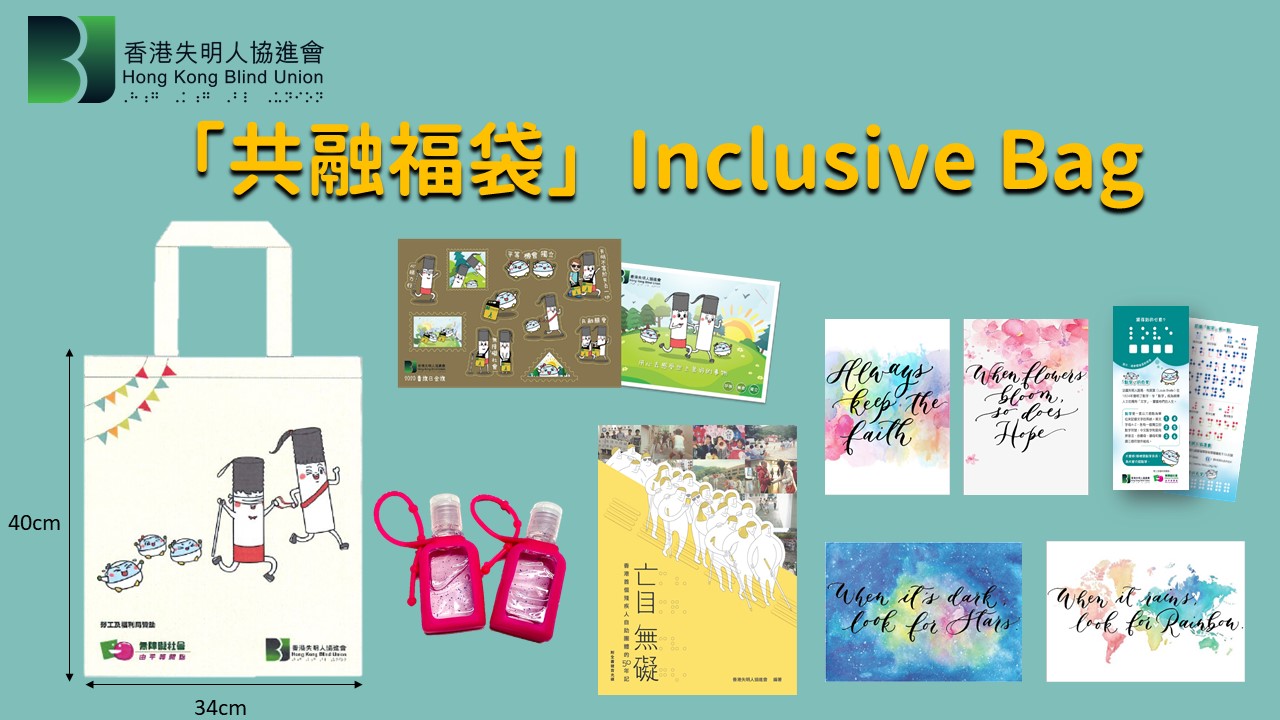 Inclusive Bag
You can also support us by purchasing an Inclusive Bag. It contains a tote bag printed with Blind Union's mascot, 2 bottles of hand sanitizers, a set of gold flag, a book written by visually members called亡目無礙, a braille bookmark and 4 pieces of English braille postcards. Donations of HK$200 can receive a donation receipt for tax exemption and an Inclusive Bag. You can complete the Inclusive Bag Order Form, donors can pick up the Bag in our center with the confirmation email.
Jockey Club Vocational and Educational Resources Centre
Pick Up Date: From 22 June to 14 August 2020
Address: Unit 13-20, G/F, Tsui Ying House, Tsui Ping Estate, Kwun Tong, Kowloon, Hong Kong
Opening Hours:Monday & Tuesday 9:00am – 6:00pm;
Wednesday to Friday 9:00am – 9:00pm;
Saturday & Sunday 10:00 am – 6:00 pm;
Closed on Public Holiday
Blind Union's work has always been to improve the lives and rights of visually impaired persons, however, this would not have been possible without your support as our income depends on donations from the general public. Affected by the epidemic this year, most of the fundraising activities need to be cancelled and our fundraising work is facing a difficult situation. Your support is crucial to us especially in this challenging time. Please support us NOW!