About Us
Message from the President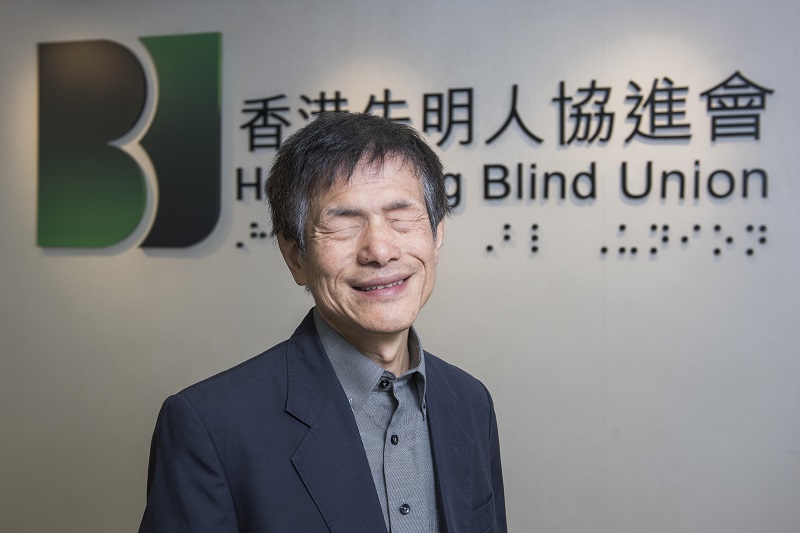 Mr Chong Chan-yau
Communication - both within ourselves and with the outside world
Communication within the team, contact with members, as well as communication with different organisations, including government departments, are important to Hong Kong Blind Union. Therefore, we have put a lot of efforts into these three areas in the past two years.
Strengthening communication amongst staff and listening to members' voices
In the quarterly staff meeting, in addition to the work report and discussion items, in these two years, staff members have been arranged to share in a relaxed atmosphere. In this way, it is hoped that colleagues from different units can deepen their mutual understanding and exchange work experience so as to create synergy.
As for members, in addition to understanding their needs through the annual general meeting and seminar, Blind Union has held a number of tea gatherings over the past two years to encourage members to have face-to-face communication with Executive Committee members. I hope that in the future, there will be even more opportunities for the Executive Committee members to get in touch with members through district-based activities and member gatherings.
Expressing our view on "Hong Kong Rehabilitation Programme Plan"
In 2017, the government tasked the Rehabilitation Advisory Committee to formulate the Rehabilitation Programme Plan (RPP) in order to set out the strategic directions for various services for people with different disabilities.
As Blind union attaches great importance to the review of RPP, our Executive Committee members and members have been actively involving in all stages of the review. We have voiced our opinions and submitted proposals, making sure that the voice of VIPs is heard.
Facing the world and broadening our horizons
As a member of the World Blind Union, Hong Kong Blind Union is well aware of the importance of connecting with the world. We have been actively participating in the work of the World Blind Union for many years. In May and July 2018, I attended the board meeting of World Blind Union Asia Pacific in Fuzhou, China, and the World Blind Union Employment Committee meeting in San Francisco, USA respectively. At the meeting, I exchanged ideas with representatives from all over the world on issues related to the visually impaired, and one of the issues was employment. We discussed how to establish an inclusive workplace where people with different disabilities can unleash their potentials and contribute themselves. This is in fact the focus of work of Blind Union in the future.
In addition, together with eight Executive Committee members and staff, we attended the World Blind Union Asia Pacific Mid-term Regional Assembly held in Ulaanbaatar, Mongolia in September 2018. Our Financial Secretary, Ho Ka-leung, was elected as the Secretary-General of the Asia-Pacific Region of the World Blind Union at the meeting. I am very pleased to see the young committee members' enthusiasm in Blind Union's work as well as their efforts in establishing close cooperation with visually impaired organisations in other parts of the world. This not only enables Blind Union to achieve excellence in our work, but also to keep up with the latest developments in the world.
A word of thanks
Finally, I would like to express my sincere gratitude to the whole team of Hong Kong Blind Union for your efforts in actualising the equality, opportunities and independence for people with visual impairment.