About Us
Message from the President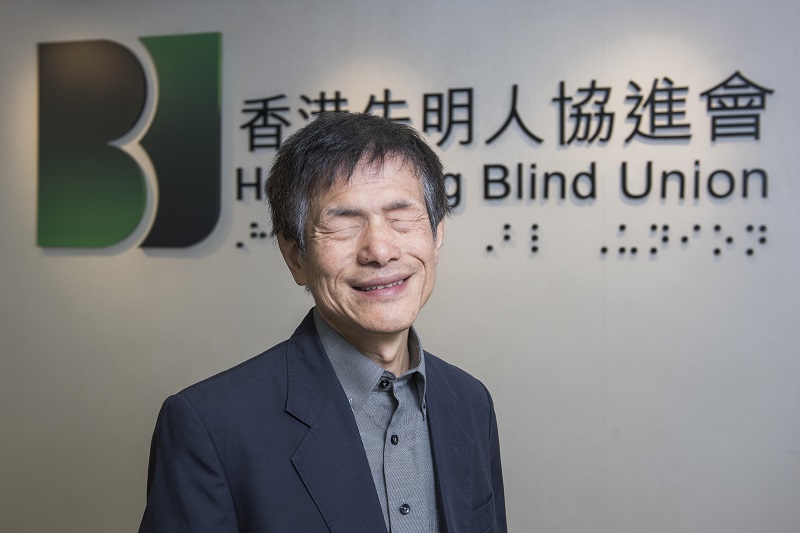 Mr Chong Chan-yau
2019-2020 is a special year for Hong Kong. The social movement in 2019 and the outbreak of Covid-19 in early 2020 have had huge impacts on the entire society. As a small NGO in Hong Kong, Hong Kong Blind Union is unavoidably shocked by this storm.
We have realised that many people in the community still have prejudices and misunderstandings about the visually impaired (VI) people. Last year, we have experienced a lot of cyber trials due to such misunderstandings: A member with low vision who watched a soccer game with a telescope was mistakenly regarded as a member of a soccer-betting group by other spectators. A totally blind member was accused of pretending to be blind because he was able to walk fast and to use the smartphone. When some VI members, including me, expressed opinions on the social movement, we were questioned with comments such as "How can you blind people see what is going on?" and "Both your eyes and your hearts are blind!"
These examples have made us more aware that if we are to build a truly inclusive society, we still need to spend more time educating the public. In particular, they need to understand that blindness is only a physical impairment and does not affect our intelligence, ability, or even wisdom and dignity.
As for the challenges posed by the pandemic including epidemic-prevention work and problems in daily life, we not only have to deal with the shortage of anti-epidemic supplies, but also the demand for household cleaning and the employment crisis. In particular, the massage industry has been hard hit, and the livelihood of the VI masseurs has been affected.
In face of the above difficulties and crises, Hong Kong Blind Union has responded in a positive way:
Following the misunderstanding about match watching, we let the public know that VI people also have the right to appreciate sports events. Then, funded by the Hong Kong Jockey Club Charity Trust, we launched the "Jockey Club Sports Programmes with Audio-description Service" in early 2020, using audio-description to let VI people feel the tension of the event simultaneously with other audiences. In addition, we have strengthened public education to respond to different misunderstandings about VI people by the public. Moreover, through social media platforms and media interviews, we have drawn the community's attention to the difficulties VI people face when scrambling for anti-epidemic supplies and appeal for support. Thank you for your responses and we can indeed feel the kindness of Hong Kong people. We have also organized VI people to help each other, helping others to help themselves.
In fact, VI people are not simply recipients of help, but also people who can solve problems. Hong Kong is expected to experience more challenges in the future. As a community in Hong Kong, VI people will respond to various challenges with the power of problem-solving. We hope that in an inclusive society, everyone will have equal opportunities for development.