About Us
What's New
HSBC offers subsidies to the visually impaired Enabling Smart living through the use of technology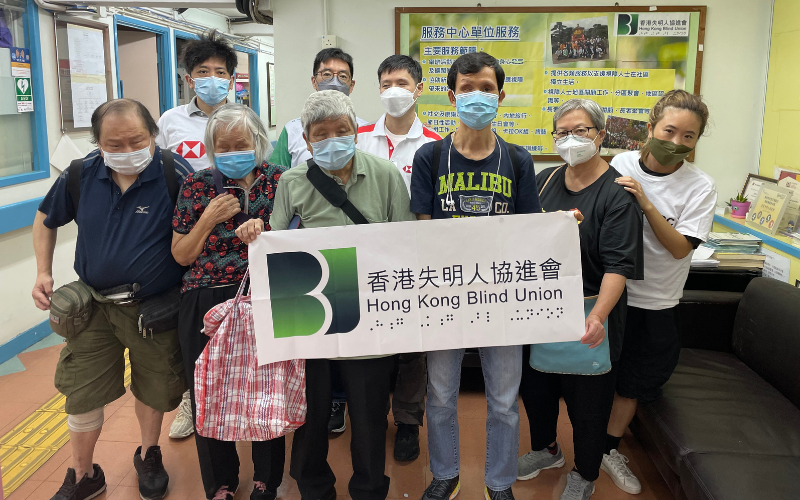 During the COVID-19 pandemic, digital technology has been substantially adopted in many aspects. In the digital age, smartphones have become a necessity of everyday life. It has come to our attention that many visually impaired, in particular those from the older generation, do not own a smartphone or are unfamiliar with using one, depriving them of the right to get key updates, participate in activities and buy basic necessities amid the pandemic. Their daily lives are inevitably affected.
Hong Kong Blind Union strives to improve the quality of life of the visually impaired through the use of technology and to encourage them to keep up with the times through continuous learning. On the occasion of the International White Cane Day (15th October), which emphasizes on the positive and independent living of people with visual impairment. Also, with support from HSBC, the Subsidy Scheme for the Visually Impaired to Purchase Smartphones and Usage of Smartphones Training Programme have been launched. Financial subsidies have been provided to 100 eligible visually impaired for their smartphone purchases. Additionally, training courses have been organised for people with visual impairment to enhance their capability to use smartphones and to broaden their knowledge on digital technology to live better and independent lives.
Mr Billy Wong, President of Hong Kong Blind Union, said: "The trend of going digital will continue to impact everybody's daily lives and HSBC has always been an advocate for accessibility improvements through offering barrier-free digital services. In addition to benefitting 100 people with visual impairment under this scheme, HSBC's staff actively take up the role as assistant instructors and train the visually impaired on the use of smartphones, enabling them to embrace the digital age and catch up with today's society."
Ms Maggie Ng, Head of Wealth and Personal Banking of HSBC, said: "On behalf of HSBC, I would like to thank Hong Kong Blind Union for inviting us as their partner for this meaningful initiative. At HSBC, we are committed to ensuring access to basic banking services, including those who may require support for their special needs. Digital technology and the use of smartphones have played a pivotal role in facilitating access to banking services for the general public during the pandemic. In view of this, HSBC does not only offer subsidies for smart phone purchases but also provides a series of comprehensive training to the visually impaired under the scheme on how to manage their personal wealth without barriers. We will continue to make banking easy and accessible for customers with special needs."
The Subsidy Scheme for the Visually Impaired to Purchase Smartphones and Usage of Smartphones Training Programme were launched in July. A total of 100 among over 200 applicants were eligible for receiving the subsidies, with assessments made by social workers of the Blind Union based on criteria such as financial status, and the need and experience of using smartphones. More than 100 training sessions on the use of smartphones have been held and will be held for the visually impaired in need, covering the basic applications and functions usually used by the visually impaired. Instructors included people with visual impairment in the spirit of self-help and mutual-help. HSBC's colleagues also served as assistant instructors for these training sessions as part of our ongoing commitment, arranged training to promote inclusion and enhance the bank's digital experience for people with different needs. Blind Union would like to express again its gratitude for the contribution and support of HSBC to create an inclusive society.