About Us
What's New
The Hong Kong Jockey Club Charities Trust continues sponsoring the Jockey Club E-Learning For All (ELFA) Project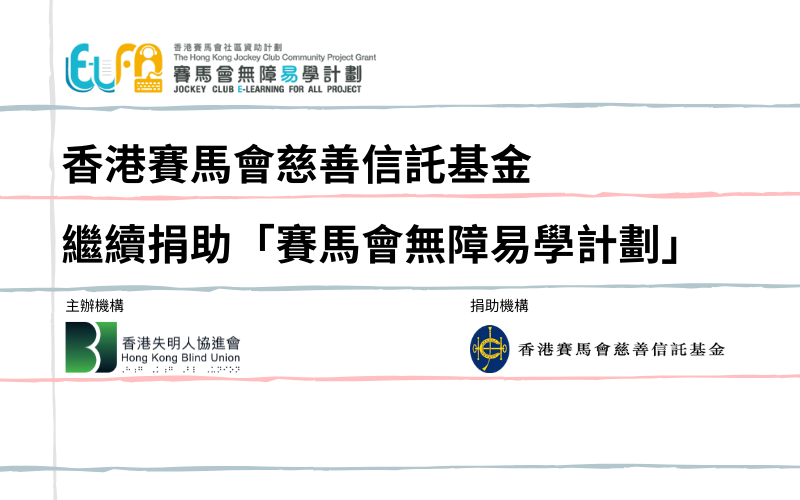 The Hong Kong Blind Union started its e-learning support service in 2011. The service has been sponsored by The Hong Kong Jockey Club Charities Trust (the Trust) and renamed as the Jockey Club E-Learning For All Project (ELFA) since 2013, and has further been supported by the Trust under The Hong Kong Jockey Club Community Project Grant starting from April 2019..
Over the past 11 years, the project has kept abreast of the times and extended its coverage from students to adults. ELFA helps users to convert printed materials to electronic format and provide multimedia learning materials such as braille music score and tactile learning materials. The Book conversion service is not restricted to school textbooks, but also covers general learning materials.
With the renewal of another round of 3-year sponsorship by the Trust from April 2022, the project will further extend its target service users to include different types of People with Disabilities (PWDs) such as print-disabled, hearing impaired, physically disabled, and people with special educational needs (SEN). To respond to recent changes in the learning mode, the production of learning materials will not be restricted to e-books. Multimedia learning materials will also be provided with audio description (AD) and subtitles. Tailor-made training workshops will be arranged to support PWDs to be accustomed to the changes in the mode of learning and work under the new normal. Besides, self-learning materials will be uploaded to the ELFA E-learning resource hub, which will serve as a powerful learning resources database.
We encourage HKBU members as well as PWDs to register as ELFA users and enjoy the right to read and learn through digital technology. For any enquiries, please contact Ms Ho at 3996 0760 or send an email to elfa@hkbu.org.hk.
For more details, please visit: https://elfa.hkbu.org.hk/