About Us
What's New
WBUAP Regional Webinar - Web Accessibility Adoption Level in the Asia Pacific Region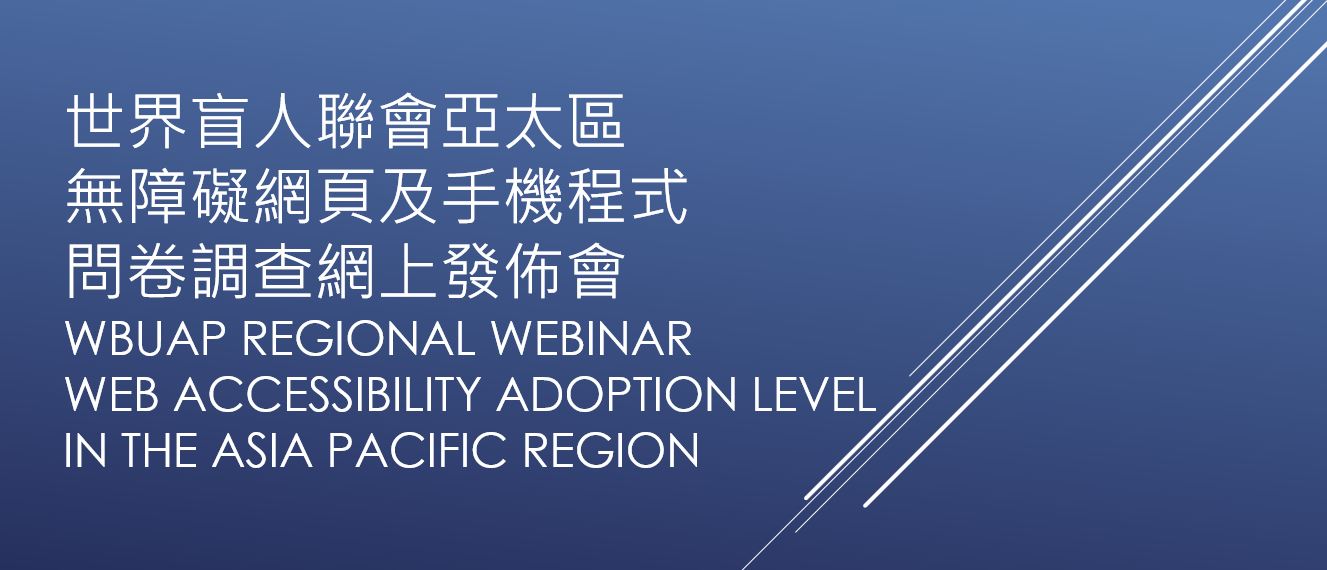 We have pleasure to invite you to join the subject webinar to be held on 22 October 2020 at 10:30am-12:00pm Hong Kong time (2:30am - 4:00am GMT on 22 Oct / 7:30pm – 9:00pm Pacific Time on 21 Oct)
Hong Kong Blind Union organise this webinar to announce the findings of a survey on web accessibility adoption level of 12 countries within the region. The survey was conducted during mid of 2019 and mid of 2020, with the hope to provide basic reference materials for WBUAP board members in formulating future plans and strategies in promoting web accessibility within the region.
In this webinar, we will share with you the web accessibility adoption level data and good practices among various countries found in our survey. Also, Ms. Judy Brewer, one of the most well-known web accessibility experts and presently the Director of the Web Accessibility Initiative (WAI) of World Wide Web Consortium (W3C), will be our keynote speaker, updating us the latest trends and impacts on the related topic. Moreover, HSBC, one of the member banks of Hong Kong Association of Banks (HKAB) will share the best practice on promoting web accessibility in banking services.
This webinar will be conducted in English. If you are interested in attending, please click here to register. Participant will got the webinar link through email after registration. If you have any eqnuiries, please contact Accessible Digital Technology Centre at 27095559.