About Us
What's New
An Effectiveness Study on E-learning Modes among Adults and Students with Visual Impairment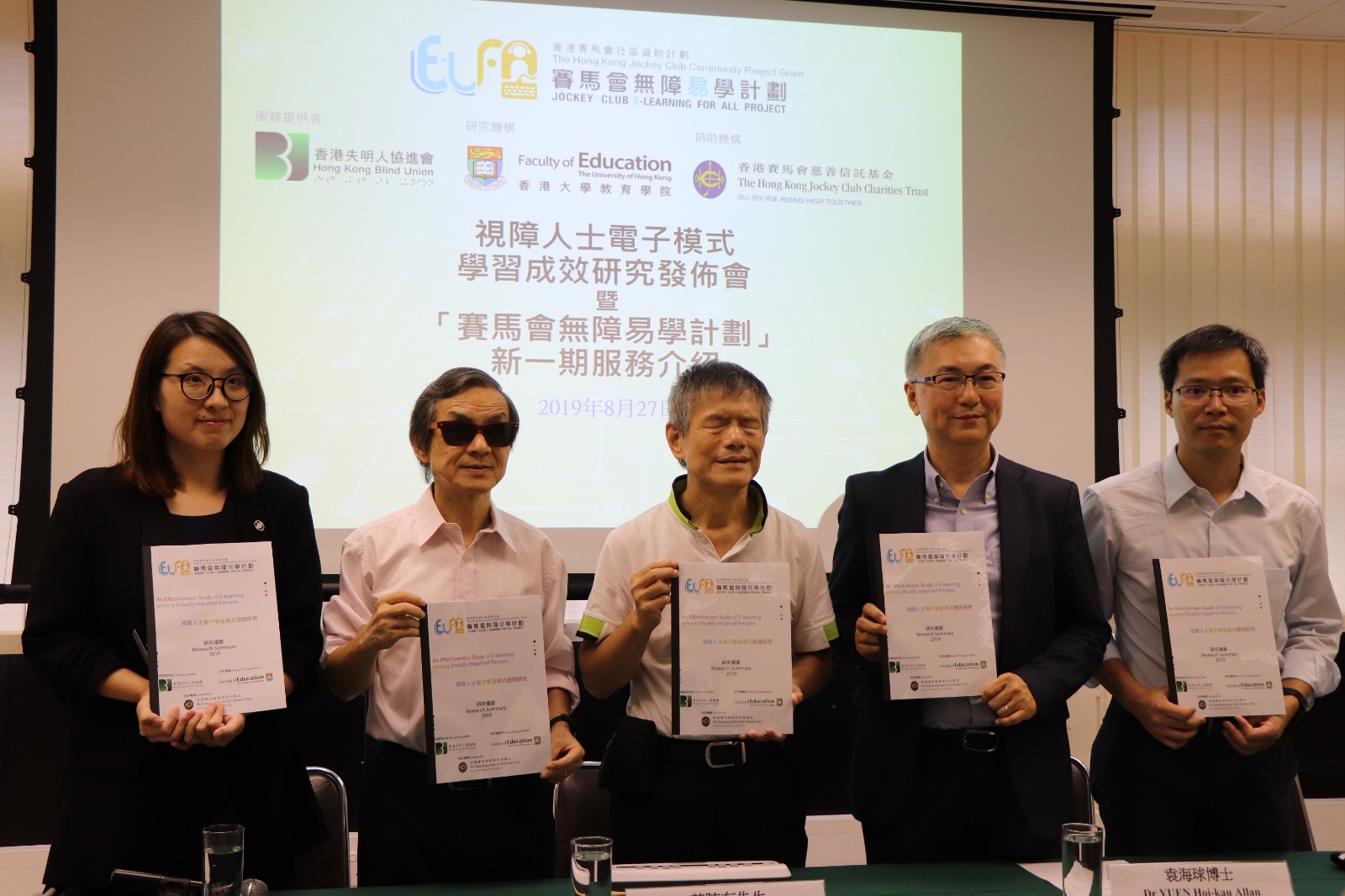 A new semester will commence soon in September, where students with print disabilities (Note 1) will face extra challenges again. Fortunately, information technology has gradually improved this situation. The Hong Kong Blind Union (HKBU) launched the Jockey Club E-Learning For All (ELFA) Project with sponsorship from The Hong Kong Jockey Club Charities Trust. The project aims to minimise the learning gap between students with reading impairment and typical students by making the best use of e-learning in their academic pursuit. In 2017, HKBU cooperated with the Faculty of Education at the University of Hong Kong (HKU) and conducted a two-year longitudinal study about the effectiveness of e-learning.
A press conference was held by HKBU on August 27, 2019 (Tuesday) to disseminate research findings. Mr Chong Chan-yau, the President of HKBU, said that persons with visual impairment can broaden their learning horizon and stay close to the ever-changing society via assistive technology. With the assistance of screen readers, persons with visual impairment can use mobile phones and personal computers to learn and to integrate into campus life. This longitudinal study aims at finding useful data for information technology experts to develop assistive devices which fit the practical needs of persons with print disabilities. Recently, HKBU has extended the scope of the project to cater to the reading needs of adults with visual impairment.
Dr Allan Yuen, Deputy Director, Centre for Information Technology in Education (CITE), Faculty of Education, HKU, stated that the present study focused on people with visual impairment. This study was a two-year longitudinal study with three time-points data collection. The framework of Technology Acceptance Model (TAM) (Note 2) was adopted in the present study. A total of 50 participants including primary and secondary school students as well as adults with visual impairment were recruited. A mixed method design was adopted, in which both quantitative and qualitative data were collected for examining the effectiveness of screen readers and exploring areas for improvements. The students with visual impairment who participated in this study had already used screen readers for two to three years. Therefore, their acceptance of screen readers was relatively stable according to the TAM index. In addition, there was a higher frequency and an increasing trend in using screen readers for instant communication among students with visual impairment. Moreover, students with visual impairment reflected in the focus group interview that they mainly used screen readers in language classes at school. They commented that the use of screen readers could replace traditional Braille textbooks, which could reduce the weight of their school bags and increase their reading speed.
About The Jockey Club E-Learning for All (ELFA) Project︰https://elfa.hkbu.org.hk